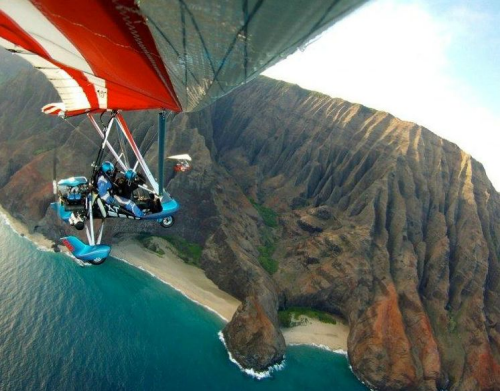 This email came in from Gerry Charlibois from BIP after he added up the hours logged on his 3 Airborne XT's for 2011:
Thank you from the Birds In Paradice Team – Kauai – www.birdsinparadise.com
I just compiled the airtime for my insurance company for 2011, We logged 2180 hrs on my 3 SLSA airborne trikes. Doing the manufacturers required maintenance and part replacement, (base tube and mast etc)… I have found no wear or bending. In tearing down the SST wings, I have found a couple of Knuckles that had a slight elongation in the brass insert and we replaced them. The high wind conditions here in Kauai are very challenging for the instructors and the equipment. We are very proud of our flying machines and the team at Airborne should be very proud of their product that they produce. I am pretty sure we push the Airborne trikes a little more than the average aviator, but not to what they could really handle. We get to fly through the bad turbulence that mother nature can unexpectedly deliver! We do not need to thank god in these situations we trust our flying ability and thank Airborne engineers for building our aircraft to a recognised safe standard. If these trikes are standing up to everyday flying like we put them through in a commercial venue in tough conditions, I know the average recreational pilot can rest assured they are flying an aircraft that has been truly tested in real time. Birds in Paradise will celebrate 20 years of flying Airborne trikes on Feb 23 when I picked up Shane from Australia at the airport and we put together the first Airborne trike in Hawaii.
To the whole team at Airborne, I thank you and look forward to the next 20 years!