Directions to Airborne from Sydney

The factory is open from 9am to 3pm Monday to Friday.
If driving from Sydney you will need to allow 2 or more hours. Follow the signs first for Sydney City and then Harbour Bridge, then once over the bridge follow the signs for F3 North Coast/Newcastle.
Once on the F3 freeway, after about 1 hour you will come across the big Caltex (Macdonalds etc) service stations. These are each side of the freeway and are the only service stations on the freeway. You need to take the 2nd exit after the service station. The sign says Charlestown, Lake Macquarie, Swansea.. Do not worry about any Newcastle signs as we are closer to Charlestown, and the Newcastle exit will add miles to your trip.
Another 30 minutes of driving will bring you off the freeway at Swansea, continue onto the next town Belmont and then get into the right lane. About 1 km out of Belmont take the right turn to Redhead (at lights). Continue to the roundabout and turn right at the last exit (see sand dunes).
Past mobile home village on right then caravan park. Look on the left for Industrial area behind car wreckers/resellers. Drive up along side of wreckers and we are at the back of the estate (Brick offices).
Flights are also available from Mascot to Williamtown with Aeropelican. Williamtown is a 35 minute drive from the factory.
Trains are available from Sydney central to Newcastle.


Directions to Airborne from the north

The New England and Pacific highway will both bring you to Hexham just west of Newcastle. Stay in the right lane through Hexham and take a right turn at the lights following sign posts to Charlestown.
Turn left onto the freeway (Main rd) also signposted for Charlestown. At the end of the freeway turn left and get into right lane (Newcastle rd).
Watch out for speed camera 70kms. Turn right at lights (Croudace st/Lookout rd, sign posted Charlestown). Continue past John Hunter Hospital and straight onto the new Charlestown Bypass.
At end of Freeway turn left (Pacific Hwy) and get into right lane. Turn right at lights, see the big Toyota dealership on the corner, (Oakdale rd). Drive to the end of Oakdale and turn right at T intersection. Continue downhill into Redhead. Past the Shell service station on left, past the big Kuta Lines surf shop on right. Turn right into Jewels Industrial estate (see Airborne sign) along side of auto wreckers. We are around the the back, brick offices.
Low cost motel accomodation within 5 minutes drive of the factory and opposite Lake Macquarie.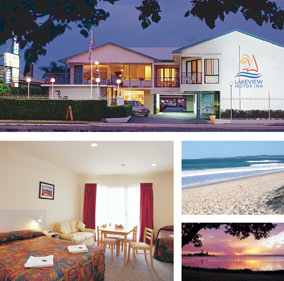 Contact Details for the Hotel-Lakeview Motor Inn
749 Pacific Highway
Belmont, NSW 2280
Ph + 61 (02) 4945 2847
Fax + 61 (02) 4945 2039
lakeview.motorinn@bigpond.com.au
Book online at: www.lakeview-motorinn.com.au