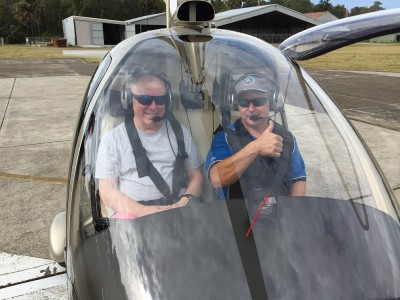 The Gyro business in Australia is growing and we are lucky to be partnered with Magni the Italian manufacturer. Magni are clearly a leader in their field of designing and manufacturing high quality gyrocopters or gyroplanes. Pictured Airborne director and CFI Russell Duncan with Englishman also my bro in law Andy Tudor.
This from Elisabetta @ Magni:
After the incredible success of the official presentation held on the 13th of September,  "Gira, gira, gira…anzi vola!", a book published in bilingual edition Italian and English, is now available. It's ready to fascinate readers and fans from all over the world with the story of Magni Gyro, a small company that flies high.
Read the latest Magni enews here. https://www.airborne.com.au/images_new_site/gyroplanes/Vittorio-Magni.pdf
Airborne will be giving away one of these books signed by Vittorio Magni and other prizes. Just keep an eye on the Airborne facebook page next year for more information.
Here's the link https://www.facebook.com/airborne.microlights.hanggliders.gyrocopters