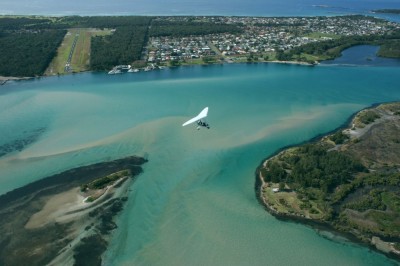 2014 has certainly been an amazing year for Airborne. Australian manufacturing has suffered a big set back over the last six years due to the poor world economy and the high Australian dollar. Many good businesses that have been around for as long as Airborne (Inc 1983) have not survived.
Airborne itself has had to undergo changes, staff levels have declined from 36 to the current level of 15. It seems that some economists don't realise the effort it takes to get a business like Airborne from  where it was in 1983 to where it is today and especially to where it was six years ago! To create the designs, to find the markets, to learn how to manufacture efficiently and line up the distributors.
To lose a manufacturing business is a massive cost to any economy as it is unlikely to be restarted due to the major cost of the initial investment. Could the situation have been managed better? We are sure it could have.
An important factor for Airborne throughout this period has been the unwavering support from many of our customers. Without that support we would not be here today.
We have a fantastic staff, many of them with young families and our goal is simply to keep them as well as ourselves employed and try to create a great working environment for all.
For this reason we would like to say a big thankyou to our customers who's loyalty has helped to keep Airborne in business these last few years, we are very grateful for your patience and your support.
It has been extremely important for Airborne to diversify it's business and we have been actively seeking contract work and new opportunities. This has been reasonably successful. We contracted one of our engineers Simon Ross to CSIRO over a six month period where his work week was split between Airborne and CSIRO.
We have been working with Indonesian forestry where last December we supplied 15 XT-582 Outback trikes now deployed to 15 forest regions in Indonesia. These trikes will help rangers to monitor the very valuable rain forest resource in the region. Indonesia are a close neighbour and we were very happy that forestry chose to fly Airborne machines.
Airborne Directors along with a consortium of like minded aviators made a decision to invest in the old Belmont (Pelican) Airport. We took over ownership from Mirvac on the 1st July this year. It was a leap of faith for all concerned, infrastructure like this is usually a big cash drain and the airport is no exception. Added to this were the costs of turning a derelict site into a loved again airport. It is still a work in progress and we have just about re-furbished all the existing buildings. Our master plan is yet to be completed but will include moving the Airborne factory to this amazing site. In the meantime we are flying our microlights and gyrocopters as part of Airborne Flight Training. Skydive the Beach have started jumping out of aeroplanes and doing lots of tandem parachute jumps. Matt Hall is operating his aerobatic flights. There are some helicopter ops happening from Skyline Aviation and  Altitude Aviation are now at the airfield and leasing one of the big hangars for part of their fleet of aircraft.