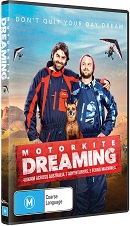 If you love the idea of an epic adventure, flying a trike in the amazing Australian Outback then don't miss the opportunity to grab a copy of this awesome movie.
Here is the link: https://motorkitedreaming.com/watch-film/ local or international customers can order the DVD or buy the link to watch online.
Airborne also has DVD's in stock for local customers. They are ready to mail out for $25.00 per DVD which includes postage. Email spares@airborne.com.au to secure your copy.