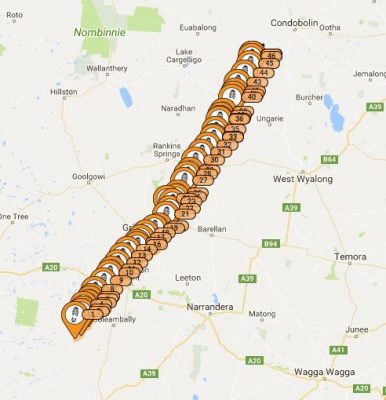 The day: Friday 8th Dec 2017 launch 9:30
Launch Site: Ben More, (just over the back of Ben Nevis) Victoria. View on map, click here.
Distance: 532.4 kms (to be confirmed)
Take off 9:30 Landed 20:00
Airtime approx 10 hours 19 minutes
He landed 26kms short of his nominated goal which was Milby, NSW which is west of Parkes between Parkes and Lake Cargelligo. View on map, click here.
The glider Rohan flew was the Airborne C4-13. He flew with only a VHF radio to get around the airspace.
Sandra his wife drove 1500 kms to make the retrieve navigating around flooded areas. Sandra used a Spot Tracker and arrived before Rohan had packed up. They arrived back home 18:00 the next day!
Rohan a well known comp pilot from earlier days runs Dynamic Flight http://www.dynamicflight.com.au/ A big part of Dynamic these days is making hang gliding harnesses. Rohan also still teaches Hang gliding.